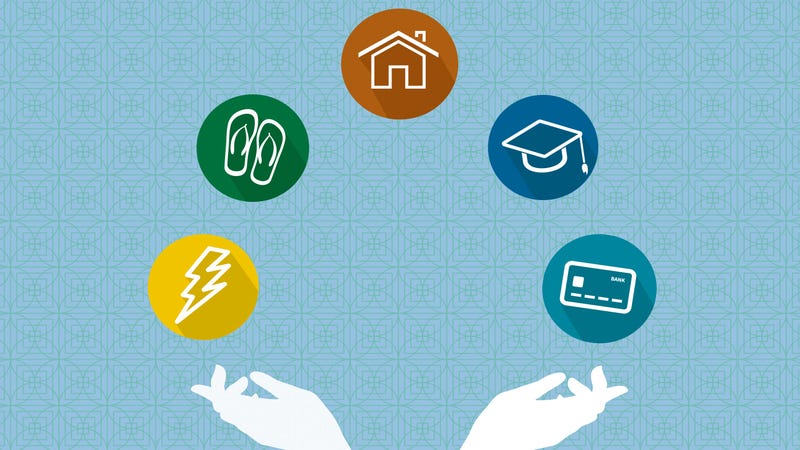 It's an age-old financial dilemma: you want to save for the future—maybe to better prepare for retirement or to help pay for your kid's college education—but you're dealing with today's bills.
So how do you strike a proper balance and juggle current obligations while simultaneously saving for the years ahead?
Here are three strategies to use when you need to pay today's bills but still want to plan for the future.
1. Prioritize Your Future Goals 
Too many people get overwhelmed with their finances because they feel like there are too many issues to tackle. You might need to get out of debt, improve your credit rating, get life insurance, create a will, save for retirement and more.
Your financial "to do" list could go on and on. But instead of stressing over the number of items on your list, put each item into various categories based on when the goal needs to be accomplished.
In reality, it may not be possible to do everything at once—nor is it necessary. So instead of fretting over everything, place each future goal into a "bucket" based on whether it's a short-term goal, a medium-range objective or a long-term mission.
For example, if you want to boost your credit score in six to 12 months, that's a short-term goal. But if you want to amass a down payment for a new home, that effort could take two or three years of diligent saving, making this a medium-range objective. On the other hand, setting aside funds for your five-year-old daughter's future college tuition is a long-term mission.
Each aspiration is significant and requires you to earmark money toward the goal. And since your funds aren't unlimited, you'll likely have to focus on these things first, letting other, less pressing matters take a back seat to your primary goals.
By prioritizing in this fashion and considering what is most important, you'll relieve some of your mental financial stress and be best positioned to act on your main goals.
2. Take Micro-Steps Toward Each Goal 
Next, don't fall into the trap of thinking that balancing current and future obligations is an "either or" proposition. Doing one of these things doesn't mean you have to exclude the other. In fact, you should get into the mindset of knowing that you must do both—handle existing bills and tackle future planning—simultaneously.
The key is to break everything down into chunks and to take small steps, even micro-steps, toward reaching each goal. So if you want to save $5,000, realize that you might not be able to save $500 a month and meet this goal in 10 months. And that's OK.
But can you save $200 a month or even $50 a month? The point is to take action and work toward the goal. Don't simply say, "that's impossible" because the numbers seem too large. No financial goal is impossible if you break it down and are willing to pursue it—even in smaller steps. Once you get started toward trying to reach a goal, it's easier to keep going as you make progress, build momentum and see some of the fruits of your labor starting to come to fruition.
3. Get an Accountability Partner 
Many women have someone in their lives they use as a "sounding board" for different things: relationship troubles, job or career issues or even problems with kids and relatives. But to whom do you turn when you have money worries?
When you're trying to meet future financial goals and still pay all your current bills, it helps to have an accountability partner—someone who will help you stay on track.
For some people, that means getting a trusted financial advisor. According to the 2014-2015 "Financial Experience & Behaviors Among Women" survey from Prudential Financial, less than a third (31 percent) of women surveyed in the U.S. have a financial advisor. Some women aren't using a professional advisor because of misconceptions about cost. But a reputable advisor is often not as expensive as you might think, and a good advisor can help you reach your goals in several ways.
That individual could give you expert financial advice, create an overall financial plan for you or simply point out money-management areas that you've overlooked. It may come as no surprise then, that among women surveyed who do use a professional advisor, most (53 percent) said they felt on track or ahead of schedule in planning and saving for retirement compared with just 23 percent who do not use an advisor.
For other people, relatives or close friends might serve as accountability partners. As long as they have your best interests at heart and can be honest with you about when you're not sticking to your goals, family and pals can be helpful.
Just be careful about taking certain advice—such as investment tips or insurance recommendations—from family members or friends who don't have expertise in those areas.
In the end, once you realize that today's bills are a part of life that will never go away, you can use the three strategies mentioned above to balance those obligations with future-oriented planning that helps you create a more secure financial future.
For more content similar to this, click here.
Lynnette Khalfani-Cox, The Money Coach®, is a personal finance expert, television and radio personality, and the author of numerous books, including the New York Times bestseller Zero Debt: The Ultimate Guide to Financial Freedom. Lynnette once had $100,000 in credit card debt, before paying it all off in three years and turning her financial life around. Since then, she has appeared on such national TV programs as The Oprah Winfrey Show, Dr. Phil, The Tyra Banks Show, and Good Morning America sharing her success story and teaching millions about proper money management. Lynnette, an award-winning financial news journalist and former Wall Street Journal reporter for CNBC, has also been featured in top newspapers including the Washington Post, USA Today, and the New York Times, as well as magazines ranging from Essence and Redbook to Black Enterprise and Smart Money. She can frequently be seen as a guest commentator on CNN, FOX Business Network, and MSNBC.
This is a sponsored post by Prudential.